Parodontology
Tartar removal
What is tartar? Tartar is nothing else than calcified pellicle that can be present under or above the gum, on the original teeth and on replacements also. While the tartar above the gum is visible, those underneath the gum can only be observed with special dental tools. Tartar can cause numerous problems like cavity, gum inflammation, gum bleeding, parodontal inflammation, parodontal resorption, slacking and discolouring of healthy teeth and its rough surface can promote bacterial pellicle to be deposited. This is why removal is necessary.
How do we remove tartar?
We use a professional high-frequency device designed for tartar removal but besides the modern machines we also insist on the importance of manual scaling. In the course of a professional oral hygenic treatment we remove pellicle and tartar together both from above and underneath the gum. The main tool we use is the so called ultrasound scaler.
The ultrasound impulses make the operating head vibrate and this way it knocks tartar off of the teeth without harming the enamel. The vibrating head is cooled with water that also flushes the fragments away. Afterwards we polish the surface and due to the polish tartar can adhere less in the future.
VECTOR therapy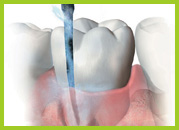 The most up to date and indulgent method of removing tartar. This is the first ultrasound scaler that vibrates parallel with the surface of the teeth reducing the sensitivity of the dental neck to the minimum. With the Vector we can remove dental plaque and tartar fast and reliably even from areas underneath the gum. For cooling we use a chemical rinsing solution that gently cleans dental plaque micro-organisms from the teeth sachets. We did not experience any unfavorable post-treatment effects and our patients can eat and drink after a short time.
Tartar removal with surgery
Steps to resolve:
Applying ultra sound tartar removal above and underneath the gums
Teeth polish either with a polish brush or sand-blast depending on the case
Oral hygienic training (for a success on the long run)
Cleaning the bacteria toxins from root canal surfaces with a special toolset (Gracey teeth cleaning toolset)
If the sachets do not disappear then we surgically open and clean them and make the sachets smaller or we apply bone replacements. If the sachets are deeper than 4 millimetres then the pathogen flora cannot be removed safely without an operation. This way the disease can evolve. From this point of view the necessity of a surgical intervention is more understandable.
Air flow polish
By using the developmental result of mechanised cleaning tools we can achieve these perfectly smooth root surfaces not just with polish brushes but also with the sand-blasting technique.