Diagnostics
Screening test
Unfortunately Hungary has far the highest numbers in oral cancerous diseases in Europe. 2.5% of all cancerous diseases and 1.5% of death in total caused by cancer is originated in the human mouth. Oral cancer screening is part of the dental examination, as early identification is vital. The processes not larger than 2 centimetres in diameter can be treated easily. Though most of the oral cancers are not recognized until they have metastasis in the neighbouring glands.
Condition assessment
This examination is provided free of charge of course (first consultation and the half-yearly examinations). Examinations of oral mucosa, gums, tongue and teeth diseases.
Making a treatment plan
If requested by the patient we are providing written price offers of future treatments.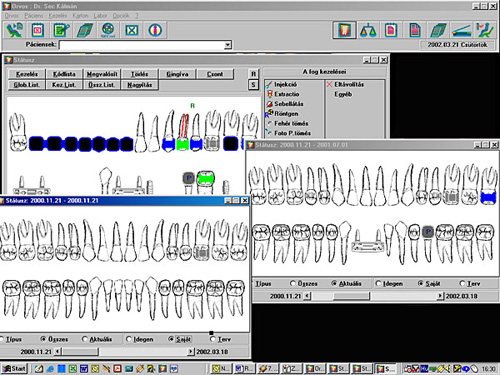 CT Diagnostic
The Veraviewepocs 3De is a state-of-the-art panoramic X-ray unit for 3D imaging. High in resolution and low X-radiation exposure, it offers easy positioning and imagin manipulation, versatile image processing, and brilliant, distortion-free 3D images.
3D, Panoramic, and cephalometric capabilities
Integrated sensor for both panoramic and 3D images
Easy positioning for 3D images - simply click the region of interest on the panoramic view
High-resolution, contrast-rich 3D images of both hard and soft tissue with minimal artifacts - and no distortion
Easy images processing for 3D images with intelligent volume rendering and real-time reslice
View 3D images on any computer or export them to third-party software for more specialized processing
The effective dose for 3D images is only obout 1.8 times* panoramic X-ray with film exponsure and 1/5* the CTDIw value of a conventional CT